Lowlands Whispers
We've made it home after a wonderful couple of days at Lowlands where we have studied how stories change as they are being transmitted from one person to the other.
In our little festival lab we had two "booths" where particpants would enter and hear or watch a story that was being communicated to them by a previous participant, either via spoken word or in silence using gestures. This way, we created "chains" of festival guests who were retelling stories to each other, like in a "Chinese whispers" game.
The days at Lowlands were intense and great fun, but above all it they were great research-wise: we have completed three experiments and are very happy with the amount and quality of the collected data. Many thanks to all our helpful and committed participants!
Special thanks go out to Fenna Riethof and Bob Brinkman. Fenna is a talented upcoming fiction writer who helped us by writing attractive and cleverly-designed stories set in a recognisable Lowlands context. Bob is an actor and voice artist who was so kind to record our "seeds", the story performances that started each chain of "whispers". Also, we are very grateful for the support given to us by LIACS, our institute, and by Leiden University more generally.
On this webpage we have collected and listed various articles and news items that have covered our research project during Lowlands or in the days after. On the longer run (expected October-November 2019) we will start sharing some of our results and findings on this page, so stay tuned if you want to know more!
The Lowlands Whispers Team
Alexandra Barancova
Bram van Dijk
Emma van Zoelen
Jae Perris
Joost Mollen
Kees Sommer
Lesley van Hoek
Marissa Memelink
Ross Towns
Marcello Gómez-Maureira
Max van Duijn
Tessa Verhoef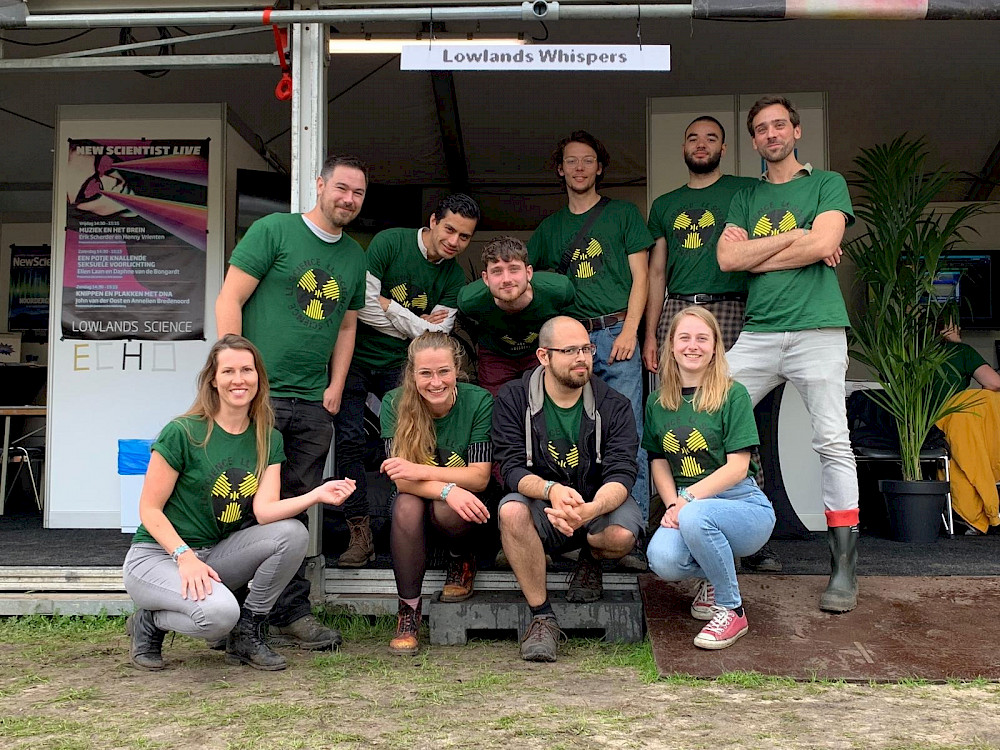 ---
Leiden University
Marieke Epping and Merijn van Nuland have made an awesome multimedia report of our second day at Lowlands with photo's, audio fragments, and interviews for the Leiden University web page.
Mare
Leiden University's weekly newspaper Mare has paid attention to our presence at Lowlands in their issue from Thursday September 5th.
7Days
The 13 September issue of newsmagazine 7Days features a nicely written one-pager about Lowlands Whispers.
New Scientist
In the weeks before Lowlands we were a bit tough towards journalists, because we did not want to say too much about our experiment plans and hypothesis in order to avoid influencing of potential participants. Yannick from the New Scientist managed nevertheless to write an interesting and appetizing article about us.
BNR Niewsradio
On Monday the 19th of August, early in the morning after the final festival evening, we were interviewed by Bas van Werven in his morningshow. The fragment can be found here (around 8.20am).
Omroep West
Both on their website and in Bas Muijs' lunch show on the radio (1.10pm), Omroep West has taken the time to cover our research in detail.
Nemo Kennislink
A more general article about Lowlands Science can be found here.